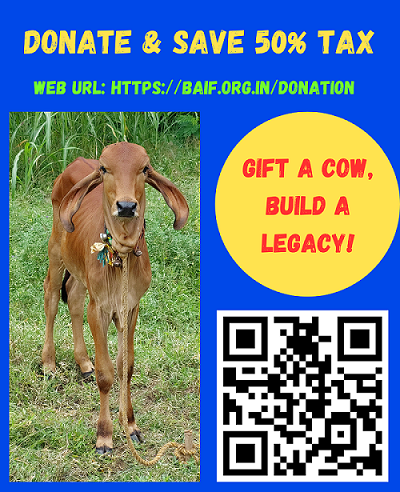 Gift a Cow, Build a legacy! 
Make a lasting impact on rural communities and support sustainable livelihood by giving the gift of a cow. With a donation of just Rs. 3000, you can empower a deserving family with a healthy, productive cow that will provide sustainable income and nutrition for years to come.
Your donation will help fund the costs of artificial insemination, veterinary care, semen sorting with cutting-edge technology, and farmer training, ensuring that each cow provides maximum benefits to its owners. By supporting this program, you're not only changing the lives of rural families but also contributing to the growth of sustainable agriculture practices in India.
Give the gift of a cow today and build your legacy as a supporter of sustainable agriculture practices and rural communities in India. Donate now to make a lasting impact!