Mar. 06, 2023
Shri. Giriraj Singh, Hon. Union Minister, Rural Development and Panchayati Raj, Government of India, visited a cactus demonstration site in Wardha, Maharashtra.  Spineless cactus as a xerophytic plant, has tremendous potential. However, it has remained unexplored for food, fodder, fuel, fertiliser requirements and even by the fashion industry (5 F plant). For a complete understanding of the economics of cactus cultivation and its benefits to the farmers, cactus-based biogas, bio-fertilizer, bio-energy and vegan-leather made out of cactus, were demonstrated to the Hon. Minister. The demonstration was jointly organised by BAIF, International Center for Agricultural Research in the Dry Areas (ICARDA), CSIR-National Institute for Interdisciplinary Science and Technology (NIIST) and 3 Miracles. BAIF provided 15 tons of spineless cactus from its Central Research Station, Urulikanchan, Pune for this demonstration. Considering the multiple uses, economic, environmental and nutritional benefits of spineless cactus, the Hon. Minister showed keen interest in promoting cactus in dryland areas of India and provided valuable guidance for developing projects with various stakeholders.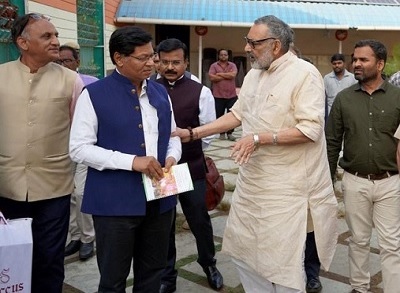 Shri. Bharat Kakade Interacts with Shri. Giriraj Singh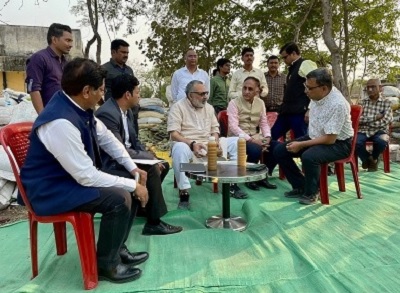 Discussions on economics and benefit of cactus
Mr. Rahul Kardile, District Collector, Wardha, Mr. Rohan Ghuge, CEO, Wardha, Dr. Shiv Kumar Agrawal, Regional Director, ICARDA, Dr. C. Anandharamakrishnan, Director, NIIST, Dr. Hukum Singh Meena, Additional Secretary, Department of Land Resources, Mr. Bharat Kakade, President and Managing Trustee, BAIF, Dr. Vitthal Kauthale, Chief Thematic Programme Executive, BAIF, Mr. Ravi Madan and Streekaya team, Mumbai and Mr. Manish Aswa, Ahmedabad were present during the visit and discussions.