Jan 23-25, 2023
A three-day workshop on "Application of Genomics in Animal Breeding and Health" was held from January 23 to 25, 2023 under Phase II of the Enhanced Genetics Project sponsored by Bill and Melinda Gates Foundation in Pune.  The Workshop was organized by Department of Animal Husbandry, Dairying and Fisheries, Government of India and co-organised by National Dairy Development Board (NDDB), ICAR-National Bureau of Animal Genetic Resources (NBAGR), National Institute of Animal Biotechnology (NIAB) and BAIF Development Research Foundation.
The workshop aimed at concretizing the genomic selection implementation in the field for the dairy sector. The discussions tried to provide answers to certain grey areas and evolve systematic and comprehensive guidelines. A concrete plan of action for the next five years was derived through a process of consensus and expert validation, involving national and international experts and other stakeholders across the dairy sector.
Chief Guest Shri. Rajesh Kumar Singh, Secretary, Department of Animal Husbandry, Dairying and Fisheries, Government of India (GoI), inaugurated the workshop in the presence of the Guests of Honour Dr. Abhijit Mitra, Animal Husbandry Commissioner (AHC), GoI, Shri. Meenesh Shah, Chairman, NDDB, Dr. Bishnu P. Mishra, Director, NBAGR, Dr. Ashish Lele, Director, National Chemical Laboratory, Pune and Dr. Pramod K. Rout, Additional Director General, ICAR. The Round Table discussions on the second day was chaired by Dr. Abhijit Mitra, AHC.
Dr. Abhijit Mitra
Animal Husbandry Commissioner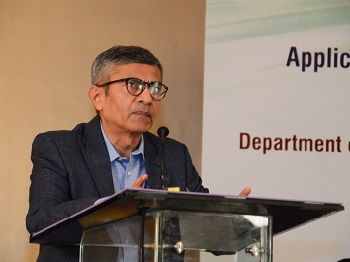 Shri. Rajesh Kumar Singh
Secretary, DAHDF, GoI
Decisions at the Government of India level to take Genomic Application in the field at PAN India level were taken in consensus with the workshop participants who comprised of scientists from International Universities / Institutes, National Research Organisations, State Government officials and representatives of Dairy Cooperatives.