Introduction
In India, livestock is the primary source of income for landless farmers supplemented with agriculture. However, a majority of the dairy farmers have poor or no access to information apart from lack of access to extension and veterinary services, education and training facilities. There are also very few call centres catering to the needs of dairy farmers.
Challenges faced by dairy farmers
 Despite a wide range of reform initiatives in agricultural and livestock extension in India in the past few decades, the coverage, access to and quality of information provided to marginalized and poor farmers is unevenly distributed. This hinders the growth of the dairy enterprise or business resulting in loss of interest of farmers in this enterprise. Hence, there is a need to establish call centres to cater to the needs of the farmers on various critical aspects such as breeding, housing, health and feeding of animals for achieving higher production with a smaller number of animals.  Some of the challenges faced by dairy farmers are:
Shortage of feed/fodder. Growing trend of high breed animals is creating a huge demand for good quality feed and fodder to cater to the dietary requirement of milking animals and use of feed pre-mixes.
Hygiene conditions.
Health issues of animals.
Lack of awareness and training of dairy farmers
Supply Chain. Absence of requisite infrastructure such as chilling plants and bulk coolers to prevent contamination and spoilage at the village level.
Poor returns on investment
Growing shortage and cost of labour. Farmers welcome farm mechanisation in order to handle the situation.
Growing consumer awareness and shifting lifestyle are forcing processors to move towards product innovation and thereby a growing demand for high quality equipment and various food ingredients.
The other concerns of dairy farmers are competition, cost of production and productivity of animals. Demand for high-quality dairy products is increasing, as is production in many emerging countries.
On account of a growing middle class, rising prosperity, changing food habits and level of awareness, the demand for milk and milk products is increasing at a rapid pace in the Indian market. A lot of innovation is taking place at the consumer end and thus the demand for new technology, machinery, packaging solutions, food diagnostics and food ingredients is increasing.
Keeping all the challenges and current marketing demand in the mind, it is necessary to educate dairy farmers to ensure higher milk production with a smaller number of animals and to create awareness about animal rearing for ensuring breeding of healthy animals.
The National Dairy Development Board (NDDB) launched a call centre – Pashu Mitra for dairy farmers to address their queries on animal health, nutrition and productivity. BAIF too launched a farmers' Call Centre – Sanvadini in the year 2015 particularly for BAIF participant farmers to provide support to farmers through dialogues over the telephone.
This outbound Call Centre was started to provide advisories to farmers involved in Dairy husbandry activities.  Rural women with farming background have been appointed as Operators or Communicators who call the farmers to provide valuable information and to satisfy their queries on dairy cattle management.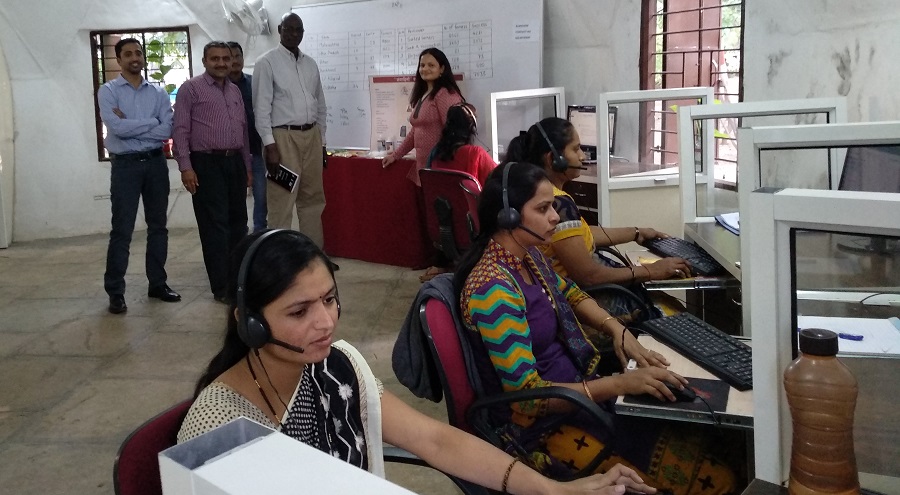 Major Objectives of Sanvadini
 The main objectives of Sanvadini are:
To provide technical guidance, input support and extension services such as veterinary care, breeding, supply of balanced ration and feed supplements, fodder seed, fodder crops and training to dairy farmers through experts.
To identify farmer problems and ensure proactive discussions and solutions and their demand for various services.
Calls can lead to wider application of services and dissemination of inputs, improve the quality of milk and thereby increase farm income significantly.
Generate a database of dairy farmers, which can further be used for various surveys, market studies and development planning.
Impact
 In the last 8 years, more than 200,000 farmers have been covered through Sanvadini which has successfully provided ready solutions to farmers' problems over telephone calls. If the communicator is unable to respond to various queries raised by the farmers, the call is escalated to the Subject Matter Specialists who answers the call and responds to the farmers' needs.  The response from the farmers has been very encouraging as they are getting advisories and updates on various critical issues in the dairy sector. Thus, today almost 10-12 percent calls are inbound calls, as against a totally outbound call centre form when it was launched.
There is a need to start more of such centres for not only helping the farmers in animal rearing and management but also for educating them about management of high yielding animals, technical guidance, advisories and input services. Such kind of centres will certainly help dairy farmers in operating dairy enterprise successfully.
The Call Centre is technically backed with a Customer Relations Management software integrated with cloud telephony, making it easy to replicate it in other States; farmers and calling data are managed centrally.   Expansion or creation of more of such call centres will help to overcome the language barrier, as the advisories can be provided in local languages.
The Contact Number of Sanvadini is 02248914067