Nourishing the Nation:
Livestock Development
Initial efforts for dairy development were made by Dr. Manibhai Desai before he founded BAIF by maintaining a herd of champion Gir cows at the Nisargopachar Ashram at Urulikanchan which was awarded the Gopal Ratna for five consecutive years.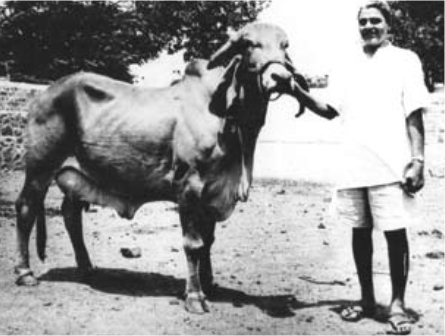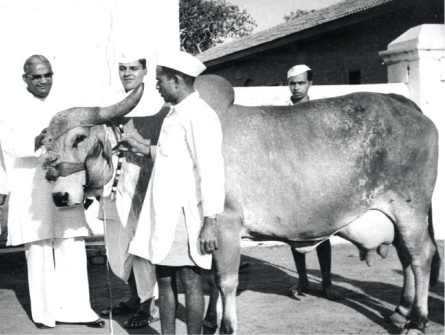 For the rural family, the improved dairy animals were like modern day 'charkha' providing gainful self-employment and remunerative livelihood to millions in their own environs.
The cryogenic system to the last mile was launched for artificial insemination at the farmer's doorstep.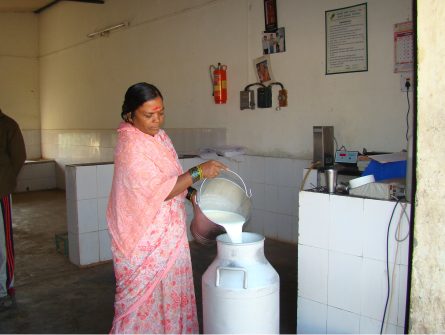 Livestock development was the first step in fulfilling the mission of gainful self-employment and sustainable livelihood for the rural population as it could positively impact millions of farming households in the country.
The strategy for meeting this goal involved producing a superior progeny by breeding local non-descript cattle with semen from home-born bulls of high genetic merit and then back-crossing the crossbreds with the Indian dairy cattle breeds.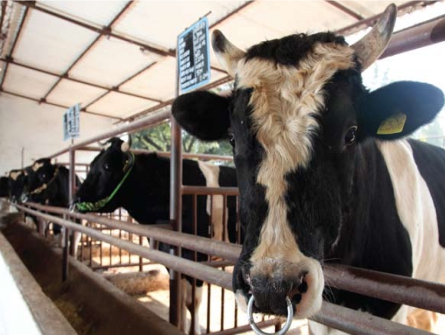 The crossbred cow represented the modern 'charkha' for rural self-employment.
The number of artificial inseminations done on a pan India level during 2018-19 was over 4.5 million covering over 80,000 villages in
13 states.
Availability of sexed semen for poor farmers has recently been introduced at the field level.
The state of the art semen production facility at the Central Research Station, houses the largest collection of Indian and exotic breeds of cattle and buffaloes.
Work has now been initiated on development of indigenous breeds and application of genomics.
Goats for the small holder – the poor woman's ATM.
Tree-based Farming Systems (Wadi)
Poor tribal families in India face a bleak future since they are often trapped in the vicious cycle of poor farm output due to dependence on rain-fed agriculture, financial constraints, debt burden and despair.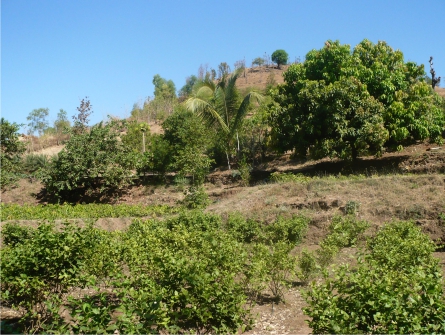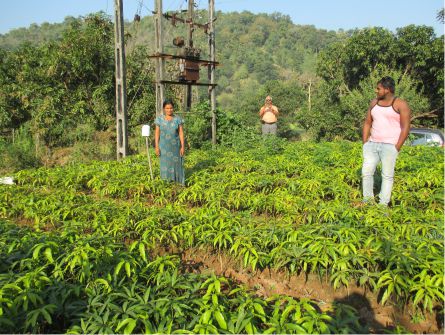 In keeping with its mission of sustainable livelihood, facilitated by climate resilient and sustainable agro-horti models, BAIF conceptualized the 'wadi model' as a holistic tree based farming system that would ensure food security and gainful self employment while being versatile enough to include other add-on modules.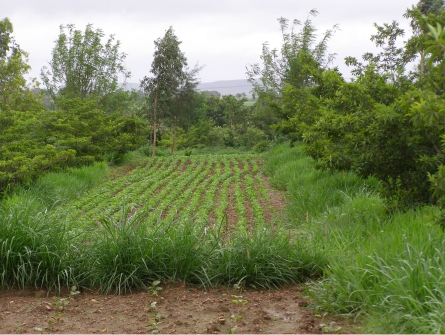 The Integrated Tree based farming system model was initiated in Vansda block of Gujarat in 1982. 
The core model involved converting the degraded land owned by tribal families into a productive asset through plantation of fruit trees, inter-crops, multipurpose forestry tree species along the border and soil and water conservation measures.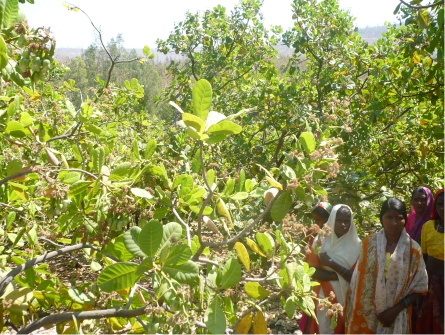 Activities such as cultivation of food crops, vegetables, plant nurseries, mushroom cultivation, inland fishery and forestry based activities such as lac cultivation and tasar rearing were subsequently added over the next two decades to generate additional income.
The carbon sequestration is able to harness approximately 23 tons of Carbon / ha in a 10 year old wadi.
The programme has now extended to over 22 States.
Skilling and empowerment of tribals is an integral part of the programme.
Manibhaiji realised that rural problems were interconnected and would need to be solved by adopting a 'holistic approach'.
Such an approach would need to have a core component  and yet be versatile enough to be adopted to suit the needs and requirements of different regions and communities.
Various components were conceptualized and integrated gradually to complete the vision of a holistic programme for sustainable development.
Impact on the Triad:
People, Planet and Profits for the Communities
The Wadi programme reduced distress migration by creating inclusive, local self-employment opportunities resulting in better quality of life.
This initiative helped in making productive over 71,000 hectares of degraded land and ensuring food security and sustainable livelihood to over 2 lakh tribal families.
It has been adopted as a national programme by NABARD and various State Governments reaching out to over 4 Lakh families.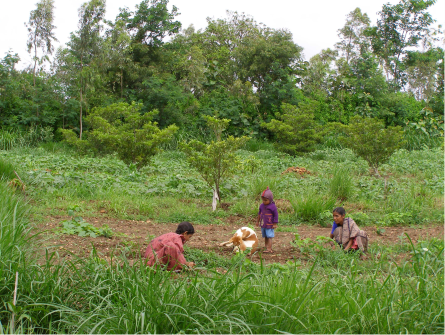 "The experience gained, has clearly shown that the deprived and the dispossessed, the landless and jobless, whose number is legion, want to be and need to be rehabilitated in their natural environs.
They are anxious to be able to make a decent living on the strength of natural resources in their vicinity and within their reach.
Vast stretches of wastelands beckon us to undertake a bold endeavor to rehabilitate the rural poor".
– Manibhai Desai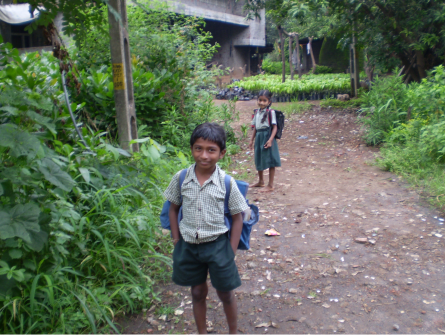 Water Resource Development is the lifeline of a healthy and productive existence.Water Resource Development projects have been implemented to promote food security,contribute to poverty alleviation, increase employment opportunities and promote people's welfare.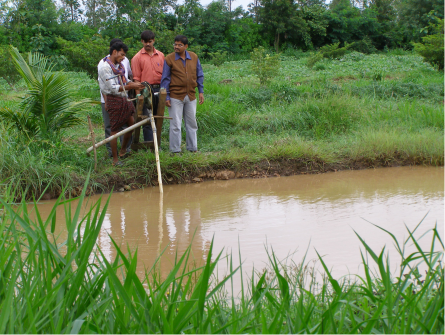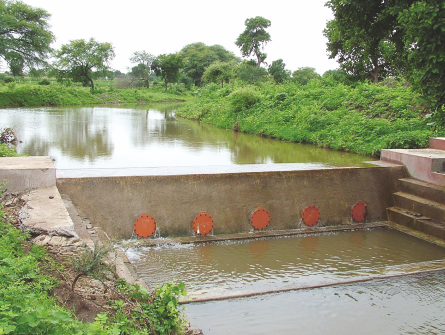 Participatory resource mapping of existing and potential water sources
Identifying locations for development of water sources
Introducing measures for water conveyance and usage
Water budgeting and planning for crop cultivation
Water sources can be of diverse forms: springs, wells, bore wells, diversion channels and farm ponds. Water lifting/conveyance can be through measures such as hand pumps, treadle pumps and powered lift irrigation.
Proper technical design and operational viability analysis is carried out.
Thrust is given on community contribution in the form of labour and inputs of locally available material like sand, gravel and stone.