Awards received by Dr. Manibhai Desai
1968 – Padma Shri for rural upliftment and community development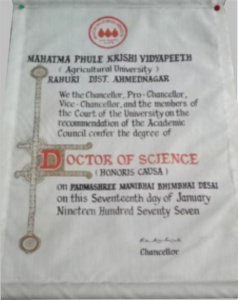 1977 – D. Sc. (Honoris Causa) by Mahatma Phule Krishi VIdyapeeth, Rahuri.
1982 – Ramon Magsaysay Award for Public Service being received from Ferdinand Marcos, President of Philippines in Manila.
1983 – Jamnalal Bajaj Award  for application of S and T for Rural Development.
1984 – D. Letters (Honoris Causa) by South Gujarat University, Surat.
Major Awards received by BAIF
2017 – Vasantrao Naik Puraskar for Excellence in Agriculture among NGOs from Sri. Pandurang Fundkar, Agric. Minister, GoM.
2015 – 8th Agriculture Leadership Award from
Shri. Rajnath Singh, Union Home Minister and
Prof. M.S. Swaminathan in New Delhi
2013 – The Plant Genome Savior Community Award to a Seed Saver Group from Mr. Tariq Anwar, MoS, Agriculture, GoM
2012 – ICICI Inclusive India Award for Sustainable Livelihoods Impact category (Established NGO) from Mr. Kapil Sibal, Union Minister for HRD, in Mumbai.
2012 – Rojgar Jagrookata Puraskar 2010-2011 for BISLD-Karnataka from Smt. Sonia Gandhi,Chairperson, NAC and Dr. Manmohan Singh,
Prime Minister of India.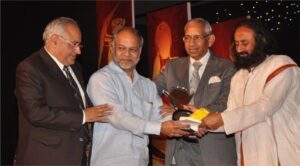 2012 – Sitaram Jindal Prize 2012 for Agriculture, Rural Developmentand Poverty Alleviation from
Sri Sri Ravishankar, Art of Living Foundation.
2011 – The Times of India Social Impact Award for outstanding contribution to Environment in backward districts of Maharashtra from  Dr. Manmohan Singh, Prime Minister of India.
2010 – Best Water NGO National Award supported by UNESCO and Ministry of Water Resources, GoI, for Revival of Rural Water Resources, Water Harvesting and Water Education in New Delhi.
2008 – India NGO Award for good governance by The Resource Alliance and N & J Khemka Foundation,
New Delhi.
2007 – Indira Priyadarshini Paryavaran Puraskar to BISLD Karnataka by Smt. Pratibha Patil,
President of India.
2005 – Indian Innovation Award for innovative approaches in poverty alleviation from Dr. Abdul Kalam, President of India in Delhi.
1997 – Adivasi Seva Sanstha  Award for tribal development in Ahmednagar, Thane and Raigad districts of Maharashtra
1986 – Indira Priyadarshini Vrikshamitra Award. Received by Dr. Manibhai Desai from
Shri. Rajiv Gandhi, Prime Minister of India.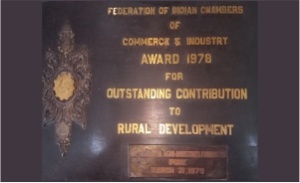 1978 – FICCI Award for Rural Development